Windbreaks
Wind breaks are make out of 3" square tubing and guard rail, the feet are removable.


​The frame is 98" tall not including the feet.
Total weight is about 1200 lbs. each.​​

$1150 - 26' windbreak

Cattle Guards
​12' Cattle Guard
16' Cattle Guard
Custom sizes and length also available upon request​.
Built to withstand heavy truck traffic, 80,000 lbs. +/-
removable wings also
available
Pivot Bridges
​
​Our Pivot Bridges are custom, and are made out of new structural steel 2 3/8" pipe.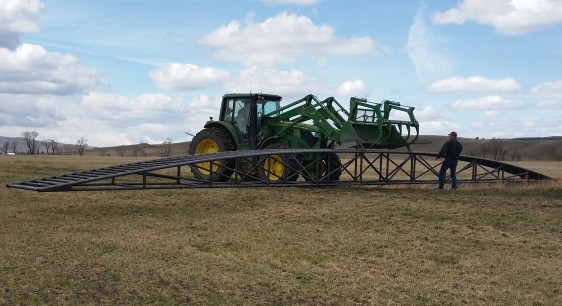 Land Rollers​


Our land rollers are built with 42" pipe with either 5/8" or 7/8" wall, and 6" 3/8 frame. They come with removable tongues and hitches for easy transport. Custom lengths built to order.

​
Montana Post Drivers


1 750R, with skid steer mount and 1 post driving tool

​
1 1000E, skid steer mount, 2 post driving tools, 1 rock spike, 1 concrete point

​
1 1500E, skid steer mount, 2 post driving tools, 1 rock spike, 1 concrete point


$9900
Danuser Post Pounder
​SM 40 With skid steer mount, tilt grapple, and weight $7000
SM 40 With skid steer mount and weight $5000

​T3 T3 Driver $1750


​10181 EP10 HYD Digger 10-20 GPM HEX $2200
10182 EP10 HYD Digger 15-30 GPM HEX $2250